Group Disability and Life Insurance for Physicians Need help setting up a group policy? DI4MDs is here to help.
It is widely recommended and advised for physicians to obtain and maintain adequate disability insurance protection. Due to medical and financial underwriting by insurance companies, oftentimes it is difficult to obtain adequate protection utilizing only individual disability insurance. We at DI4MDS recommend utilizing physician group long-term disability insurance to supplement, or if individual disability insurance is not available due to health concerns.
This group policy defines disability narrowly and specifically based on the actual procedures each physician regularly performed for twelve months prior to the onset of disability. Actual procedures are determined by obtaining billable procedures coded at claim time. Since most physicians establish disability insurance when they are in training these policies are often not updated as a physicians' income increases during their careers. Personal health often deteriorates as individuals age and therefore may not be at the same level as it was earlier in the physician's career,  making it difficult to qualify for the needed additional coverage. This is why guaranteed approval for individual disability insurance supplement group insurance is vital.
Features include:
No proof of health or finances is required.
Monthly maximum benefits are between $1,000 per month and $15,000 per month, depending on group size, physician specialty, and demographics.
May be established for medical groups with only one physician.
Premiums are paid by practice or individually.
Group life insurance and group disability insurance for doctors are important tools to help provide financial security and peace of mind. Group disability insurance helps protect a doctor's income if they become disabled due to an illness or injury, while group life insurance covers their family in the event of death.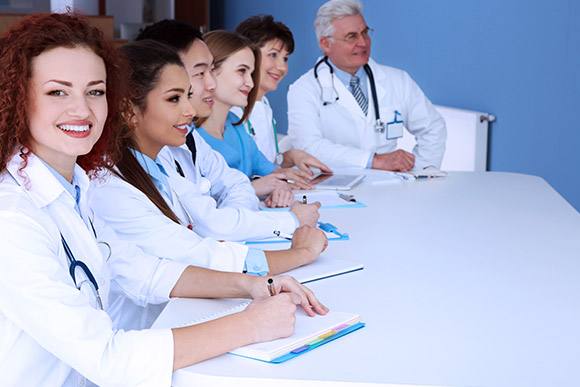 Group disability insurance provides benefits that can help replace lost income if a doctor is unable to work due to a disability. It offers protection against specific illnesses like cancer and heart disease, as well as general disabilities like back injuries and other medical conditions. Group life insurance provides coverage for those who depend on the doctor financially should they pass away unexpectedly. The policy pays out a lump sum benefit that can be used by family members to cover expenses such as funeral costs, debt repayment, or college tuition.
Obtain More Info
Disability Insurance Considerations
Doctors make a valuable contribution to the well-being of our country.
They are concerned about the health and safety of our population. As such, it is important to ensure they are provided with adequate protection in terms of group life insurance and group disability insurance.
Group life insurance provides financial security to doctors' families in case they become incapacitated or pass away due to injury or illness. This type of coverage can also provide financial relief during times of economic hardship, as it pays out a lump sum benefit upon death or total disability that can be used by family members for any purpose they see fit.
Group disability insurance helps protect against income loss if a doctor becomes ill or injured and cannot work temporarily or permanently due to their condition.

Group Disability Insurance
At DI4MDS we have over three decades of experience providing disability insurance to Bakersfield, San Diego, Anaheim, Irvine, La Jolla, Riverside, CA, and throughout the nation. With a passion for providing our clients with peace of mind, our independent insurance agents work with you one-on-one to find the comprehensive and affordable disability insurance residency you require.
As you can see, it is important to have enough disability insurance in place. If a physician becomes disabled, you need the financial resources and stability to help them stay independent. The best way to do this is by getting a comprehensive policy that meets all of your company's needs.
Not sure what to look for when shopping for group disability insurance? No problem! Our team is here to provide you with the education needed to make the best decision when deciding on group disability insurance for doctors. Contact us today for a free consultation and we will be happy to answer any questions you may have about disability insurance policies throughout the US!